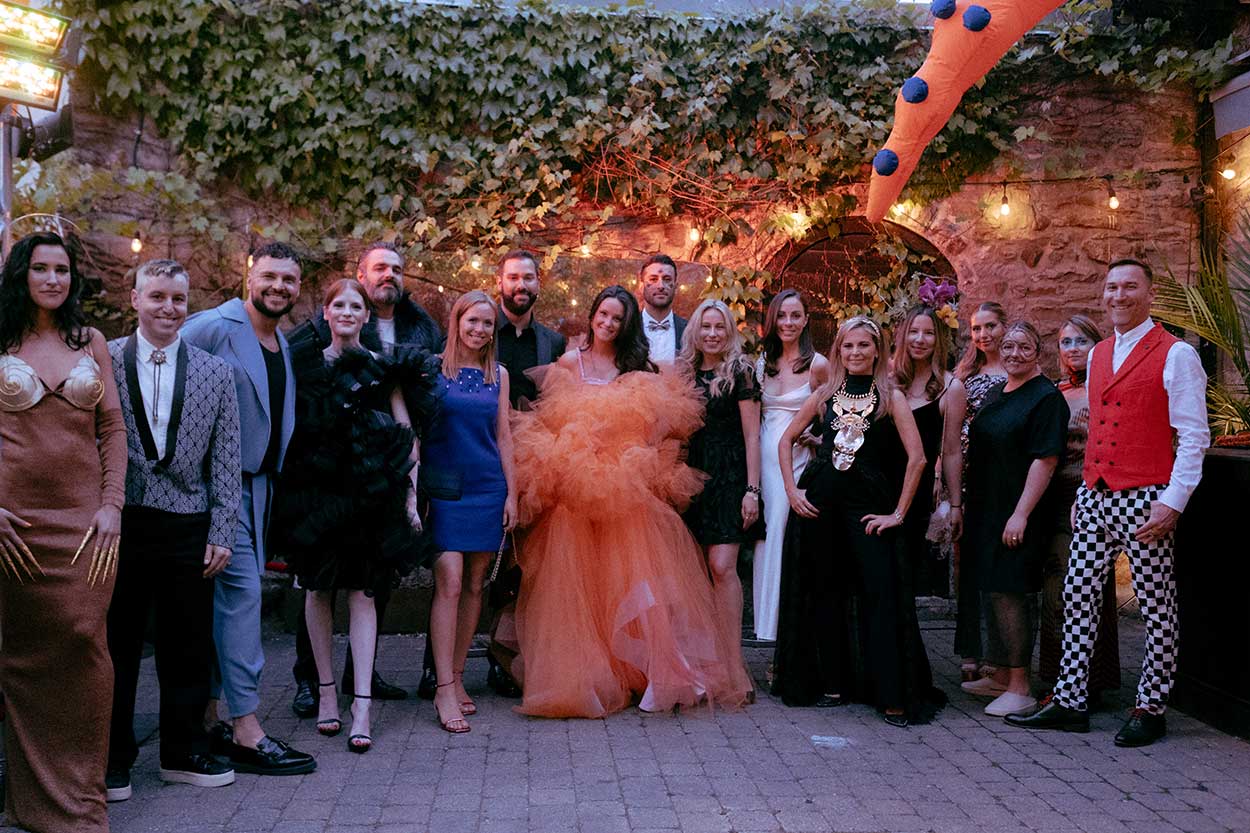 Les Printemps du MAC, presented by National Bank came roaring back last Friday at the Auberge Saint-Gabriel. Tickets sold out in record time, and more than 800 guests gathered for this celebration of contemporary art! The 14th edition of this benefit gala, themed Hasard Bazar, was a huge success, raising over $100,000 in support of the Musée d'art contemporain de Montréal (MAC).
It was a great privilege for the Fondation du MAC and the Printemps Committee to have the invaluable support of Julie Snyder as Honorary Chair. Thanks to her contagious passion, she helped to raise the profile of the MAC throughout her community and did so much more as well! 
Hasard Bazar: A unique and surreal experience
Les Printemps du MAC events are known for being spectacular and festive, with an ultra-hip and trendy crowd celebrating freedom of expression and inclusiveness in style and genre, and this year's edition lived up to that reputation. The guests at Hasard Bazar were sporting looks both glam and surrealistic featuring diamonds, sequins, masks, hairstyles of every colour and extravagant makeup. Julie Snyder herself was wearing a fabulous Schiaparelli necklace.
With Francis Guindon (Quartz Co. and Want Les Essentiels) and Lysandre Laferrière (Magil Construction) sharing co-chair duties, Nikolaos Lerakis (Duvernois) providing artistic direction, and Allison Forbes (Raisonnables) taking care of production and event management, the participants had a fantastic time! This immersive event offered guests some unforgettable experiences, including the MAC's creative workshop inspired by the Mika Rottenberg exhibition; a flower-bedecked makeup touch-up station by Lancôme, the event's official beauty partner; and a magnificent, dreamlike photo booth presented by National Bank. The guests were plunged into phantasmagorical settings where hallucination blended with reality in spaces like Purgatory, the Atlantis Room and the Room of Dreams. Characters brought to life by performers from the Sanctuary Project playfully created surprise and mystery within the crowd, and handed out enigmatic maps that kept participants moving through the various areas of the Auberge. Along with a variety of restaurant and bar stations, guests could enjoy dancing to the sounds of DJs Mélodie Wronski, Julie Anne, The Neighbors, Guillaume Michaud and Kiari, not to mention hearing an opera performance by Pierre Heault. 
The evening's auction, presented by BLG, was a brilliant success and brought in over $45,000. There were 34 lots up for bids, including works by twenty Canadian artists. Attendees at the event were treated to a display of works by Frances Adair Mckenzie, Club de dessin Montréal, Lan Florence Yee, Dan Climan, Mati Contal, Mara Eagle, Berirouche Feddal, Maryse Goudreau, Paul Hardy, Xavier Harper, Clara Jorisch, Laurent Lévesque, Alexandra Levasseur, Samuel Pasquier, Alexandre Pépin, Simon Petepiece, Julie Roch Cuerrier, Édith Sévigny-Martel, Mégane Voghell, Tess Roby. A full 30% of the proceeds from the art auction will go to support the artists. For the third year, the auction was curated by Erika Del Vecchio (Pierre François Ouellette Art contemporain).
Acknowledgements
The Fondation du Musée d'art contemporain de Montréal is profoundly grateful to Julie Snyder, who generously agreed to be the Honorary Chair, and to our partners in this event: in particular, National Bank, presenting partner of Les Printemps and major sponsor of the Foundation's events. As well, the Foundation would like to thank its sponsors: Printemps – Bombardier and Lancôme, Equinox – BLG, Deloitte, Pur Vodka, romeo's gin, Sélection Fréchette and Solstice – Blakes, OPI x Élégenza. Thanks also to our VIP participants: National Bank, Blakes, Gowling WLG, Groupe Proaction, LCM Attorneys, Magil Construction, MoFAT Management, Charlotte-May Mondoux-Fournier, and Productions J. The Foundation is also grateful to all of its in-kind sponsors for their invaluable support.